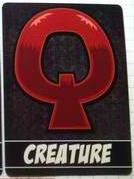 When beginning a game of Quarriors, and creating The Wilds, you pick 7 Creature cards to play with in the game. Each Creature card has 3 levels and each level has different abilities (with exception to the 3 Quaxos' cards, that counts as a 4th level).
Check out the Creature List page to see a complete list of current Creature cards.
Base Game
Edit
Each creature is represented in the game by different colored dice on the bottom of the card, just like the Basic Cards and Spell Cards. When choosing which 7 monsters will be in the game, you simply shuffle them all, and begin drawing until 7 different monsters appear. When in The Wilds during setup, you place the creature's 5 matching dice on the card so that it might be bought with Quiddity during the game. While each creature has 3 different levels, only one can be played each game, giving Quarriors! even more randomization and replayability.
Quaxos' Promo Pack
Edit
The Quaxos' Promos introduces 3 variations to the already existing Creature Cards: Quake Dragon, Scavenging Goblin, and Warrior of the Quay. Each having "Quaxos'" before their respective names, they introduce new abilities, Quiddity costs, and Glory for these 3 creatures and count as their "4th level". Refer to the Creature's page from the Creature List for more information regarding their differing costs and abilities.
Rise of the Demons
Edit
In the previews for Rise of the Demons, they mention introducing "Demonic Overlords", an interesting set of new Creature Cards which should make this expansion a great addition to any Quarriors! fan's game. Previews for what they may look like can be seen on the box art on the Rise of the Demons page.