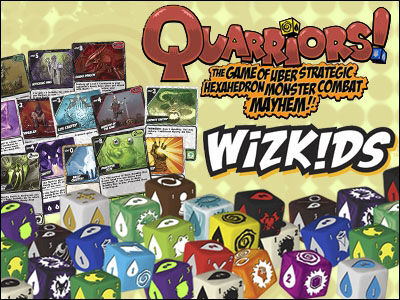 Welcome to the Quarriors! Wiki
[
edit
|
edit source
]
This is a Wiki on Quarriors!
Hi there. My goal with this Wiki is to make it a reliable and complete resource when it comes to information, pictures, rules, strategies, and updates on this spectacular new board game. I am of course, accepting any and every volunteer so we can make this a community effort and catch up before the new expansion comes out!
Here is a description of the game from BoardGameGeek: Quarriors has the frenetic excitement of a dice battle game, with an added 'deckbuilding' twist: players customize their dice pools during the game using resources generated by their rolls. Quarriors takes the best of deckbuilding games without the tedium of shuffling. Take a typical deckbuilding game, add the speed and fun of dice and in 60 minutes you're on your second or third game trying unique strategies against your opponents.
2012FEB09 - By popular demand, I have created the Immediate Effect page. This page gives a basic run through of what an Immediate Effect is and I will be adding a pic of the Immediate Effect symbols as soon as I can for reference. I've also added a link to the page for an Imm Eff FAQ. I will create this FAQ probably tomorrow with pics as reference and will be found under the FAQs and More dropdown menu. This FAQ will log and quote the rules for each instance of an Immediate Effect thus far in the game. So stay tuned! And thank you Anonymous Editor (its okay to become an active member!) for the idea.

2012FEB03 - Uploaded a favicon for Quarriors (its the small icon in the url bar to the left of the url). If it is still a blue W for Wikia, don't worry, it can take from 2 hours to 2 days for it to clear through the cache. It'll show up. I'm also *this* close to getting it a Logo as well. Right now the logo is the tannish colored "Quarrior! Wiki", but soon it'll be a decent looking logo. Thank you Logo Creator Wiki!
-Update Quarmageddon
-Upload pics from Rise of the Demons to their appropriate pages
-Basic Edits. I've been the only one editing on here so far, so if you find something like a spelling error in passing or anything of the sort, fix it up!
J is for Genius - Quarriors! artist J. Lonnee's blog on other works and further Quarriors art and news!
Community content is available under
CC-BY-SA
unless otherwise noted.