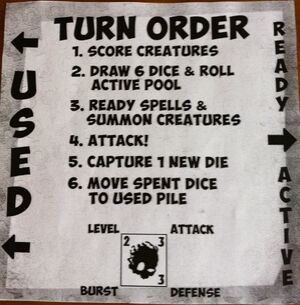 The Turn Order Card not only tells you the process of your turn to help speed the game learning process up, but also acts as a makeshift playmat. It also gives you the basic game vocabulary when it comes to The Dice underneath the 6th Turn Order Step.
Turn Order Steps
Edit
As you can see from the Turn Order Card, there are 6 steps to every turn:
1. Score Creatures
2. Draw 6 Dice and Roll Active Pool.
3. Ready Spells and Summon Creatures.
4. Attack!
5. Capture 1 New Die
6. Move Spent Dice to Used Pile.
"Playmat" Setup
Edit
To the left of the Turn Order Card is where you will place your Used Pile.
The right of the Turn Order Card is split into two parts, the top half being your Ready Area, and the bottom half being your Active Pool.